Summary
My first android program showing the stack mechanism.
You can add a new value say Push it in a stack, pop the last entered value.
This stack has a limit of 5.
Screenshot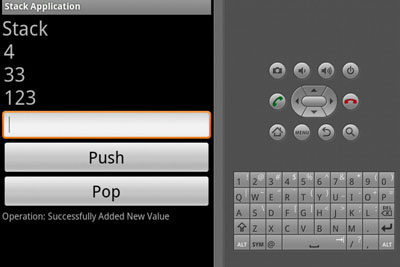 Android users v2.2 & above can download this program and test it on their phone.
The Code below only represents the main class that contains the basic logic, the layout is handled using xml files & the android program flow is managed using android manifest file.
Code
StackActivity.java
1




2




3




4




5




6




7




8




9




10




11




12




13




14




15




16




17




18




19




20




21




22




23




24




25




26




27




28




29




30




31




32




33




34




35




36




37




38




39




40




41




42




43




44




45




46




47




48




49




50




51




52




53




54




55




56




57




58




59




60




61




62




63




64




65




66




67




68




69




70




71




72




73




74




75




76




77




78




79




80




81




82




83




84




85




86




87




88




89




90




91




92




93




94




95




96




97




98




99




100




101




102




103




104




105




106




107




package

 com.rohansakhale.stack;



import

 android.app.Activity;


import

 android.os.Bundle;


import

 android.view.View;


import

 android.widget.Button;


import

 android.widget.EditText;


import

 android.widget.TextView;



public

 

class

 

StackActivity

 

extends

 

Activity

 {
    
	
	int stack_position = 0;
	int [] value = new int[5]; // Created a stack of size 5
	TextView display;
	Button push,pop;
	EditText getValue;
	TextView operation;
	
	// Push method is used to add the value to our stack and places it at the top	
	public void push(int number)
	{
		value[stack_position] = number;
		operation.setText("Operation: Successfully Added New Value");
		stack_position++;
	}
	
	// Pop method is used to remove the last value entered in the stack
	public void pop()
	{
		stack_position--;
		operation.setText("Operation: Successfully Poped Out: " + value[stack_position]);
		value[stack_position] = 0;	
	}
	
	// Print_stack method is used to print the entire stack
	public void print_stack()
	{
		String temp = "Stack";
		for(int i = stack_position-1;i >= 0 ; i--)
		{
			temp = temp + "\n" + value[i];
		}
		display.setText(temp);
	}
	
	// Displays error or success message
	public void print_error(String err)
	{		
		operation.setText("Operation: " + err);
	}
	
    
    public void onCreate(Bundle savedInstanceState) {
        super.onCreate(savedInstanceState);
        setContentView(R.layout.main);
        
        // Initialize our data members
        display = (TextView) findViewById(R.id.display);
        push = (Button) findViewById(R.id.push);
        pop = (Button) findViewById(R.id.pop);
        getValue = (EditText) findViewById(R.id.editText1);
        operation = (TextView) findViewById(R.id.operationDisplay);
        
        // Handling the User Clicking Events 
        push.setOnClickListener(new View.OnClickListener() {
			
			public void onClick(View v) {
				// TODO Auto-generated method stub
				if(!getValue.getText().toString().equals(""))
				{
					if(stack_position < 5)
					{
						push(Integer.parseInt(getValue.getText().toString()));						
						print_stack();
					}	
					else
					{
						 print_error("Stack is full");
					}	
					getValue.setText("");
				}
				else
				{
					print_error("Entered some value in Text Field");
				}
			}
		});
        
        pop.setOnClickListener(new View.OnClickListener() {
			
			public void onClick(View v) {

					if(stack_position > 0)
					{
						pop();					
						print_stack();					
					}	
					else
					{
						print_error("Stack is Empty");
					}					
			}
		});
        
    }
}

main.xml
1
2
3
4
5
6
7
8
9
10
11
12
13
14
15
16
17
18
19
20
21
22
23
24
25
26
27
28
29
30
31
32
33
34
35
36
37
38
39
40
41
42
43
44
45



<LinearLayout xmlns:android="http://schemas.android.com/apk/res/android"
    android:layout_width="fill_parent"
    android:layout_height="fill_parent"
    android:orientation="vertical" >



    <TextView
        android:id="@+id/display"
        android:layout_width="fill_parent"
        android:layout_height="wrap_content"
        android:text="@string/hello"
        android:textSize="30dp" />

    <EditText
        android:id="@+id/editText1"
        android:layout_width="match_parent"
        android:layout_height="wrap_content"
        android:inputType="number" >

        <requestFocus />
    </EditText>

    <Button
        android:id="@+id/push"
        android:layout_width="match_parent"
        android:layout_height="wrap_content"
        android:text="@string/push"
        android:textSize="25dp" />

    <Button
        android:id="@+id/pop"
        android:layout_width="match_parent"
        android:layout_height="wrap_content"
        android:text="@string/pop"
        android:textSize="25dp" />

    <TextView
        android:id="@+id/operationDisplay"
        android:layout_width="wrap_content"
        android:layout_height="wrap_content"
        android:text="@string/operation" />

</LinearLayout>