Summary
Creating a simple graphical calculator to perform Addition, Subtraction, Multiplication & Division made up using swing components.
User has to input numbers as A & B and the output will be based on the two numbers given by user.
Select the appropriate operation & output is displayed below using JLabel.
The Class has been designed by extending JPanel which can be called from other classes and added onto the JFrame for displaying.
Screenshot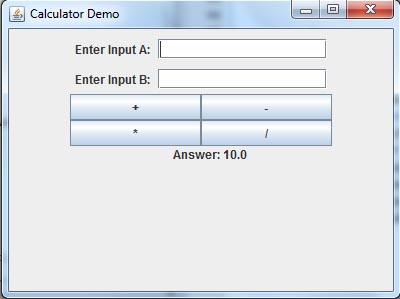 Code
1




2




3




4




5




6




7




8




9




10




11




12




13




14




15




16




17




18




19




20




21




22




23




24




25




26




27




28




29




30




31




32




33




34




35




36




37




38




39




40




41




42




43




44




45




46




47




48




49




50




51




52




53




54




55




56




57




58




59




60




61




62




63




64




65




66




67




68




69




70




71




72




73




74




75




76




77




78




79




80




81




82




83




84




85




86




87




88




89




90




91




92




93




94




95




96




97




98




99




100




101




102




103




104




105




106




package

 com.rohansakhale.calc;



import

 java.awt.GridLayout;


import

 java.awt.event.ActionEvent;


import

 java.awt.event.ActionListener;


import

 javax.swing.BoxLayout;


import

 javax.swing.JButton;


import

 javax.swing.JFrame;


import

 javax.swing.JLabel;


import

 javax.swing.JOptionPane;


import

 javax.swing.JPanel;


import

 javax.swing.JTextField;


 *
 * @author RohanSakhale
 */
public class Calc extends JPanel {

    JTextField tfInputA, tfInputB;
    JLabel lInputA, lInputB, lAnswer;
    JButton bAdd, bSub, bMult, bDiv;
    JPanel inputA, inputB, operations, collection;

    public Calc() {
        tfInputA = new JTextField(15);
        tfInputB = new JTextField(15);
        lInputA = new JLabel("Enter Input A: ");
        lInputB = new JLabel("Enter Input B: ");
        lAnswer = new JLabel("Answer: ");
        bAdd = new JButton(" + ");
        bAdd.setSize(50, 20);
        bSub = new JButton(" - ");
        bSub.setSize(50, 20);
        bMult = new JButton(" * ");
        bMult.setSize(50, 20);
        bDiv = new JButton(" / ");
        bDiv.setSize(50, 20);
        inputA = new JPanel();
        inputB = new JPanel();
        operations = new JPanel(new GridLayout(0, 2));
        collection = new JPanel();
        collection.setLayout(new BoxLayout(collection, BoxLayout.Y_AXIS));

        CalcListener myListener = new CalcListener();

        bAdd.addActionListener(myListener);
        bSub.addActionListener(myListener);
        bMult.addActionListener(myListener);
        bDiv.addActionListener(myListener);

        inputA.add(lInputA);
        inputA.add(tfInputA);
        inputB.add(lInputB);
        inputB.add(tfInputB);
        operations.add(bAdd);
        operations.add(bSub);
        operations.add(bMult);
        operations.add(bDiv);
        
        collection.add(inputA);
        collection.add(inputB);
        collection.add(operations);
        collection.add(lAnswer);
        add(collection);
    }

    class CalcListener implements ActionListener {

        
        public void actionPerformed(ActionEvent e) {

            if (!tfInputA.getText().equals(") && !tfInputB.getText().equals(")) {
                int a = Integer.parseInt(tfInputA.getText());
                int b = Integer.parseInt(tfInputB.getText());
                double answer = 0;
                if (e.getSource() == bAdd) {
                    answer = a + b;
                } else if (e.getSource() == bSub) {
                    answer = a - b;
                } else if (e.getSource() == bMult) {
                    answer = a * b;
                } else if (e.getSource() == bDiv) {
                    answer = a / b;
                }
                tfInputA.setText("");
                tfInputB.setText("");
                tfInputA.requestFocus();
                lAnswer.setText("Answer: " + answer);
            } else {
                JOptionPane.showMessageDialog(null, "Please enter proper values", "Error", JOptionPane.ERROR_MESSAGE);
            }
        }
    }
}

class CalculatorDemo{
    public static void main(String[] args) {
        JFrame calcFrame = new JFrame("Calculator Demo");
        Calc calc = new Calc();
        calcFrame.add(calc);
        calcFrame.setSize(400, 300);
        calcFrame.setDefaultCloseOperation(JFrame.EXIT_ON_CLOSE);
        calcFrame.setVisible(true);
    }
}