Vartak Integrity 2014 - Tribute to the Legends
Rohan Sakhale
1/5/2014
annual-festival
tech-cult-fest
vartak-integrity
# Summary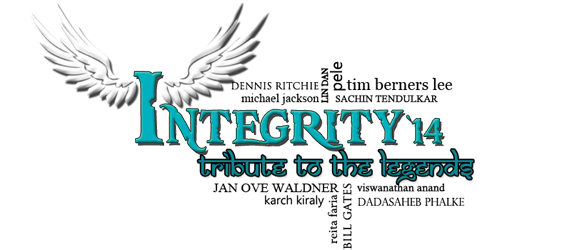 Vartak Integrity (opens new window) a Tech-Cult Fest of Vartak College (Vasai Road) organised by B.Sc. & M.Sc. Information Technology and Computer Science department after having FOUR successfully years of journey on it's FIFTH year they have decided to give a "Tribute To The Legends" and help bring out a legend in individuals with the help of various events they have placed allowing them to represent themselves on Integrity's platform where Events from Technical (opens new window), Cultural (opens new window), Indoor (opens new window), Outdoor (opens new window) & Lan Gaming (opens new window) events are organized.
# Vartak Integrity Timeline
# 2010
Began journey as an inter-collegiate festival organized by M.Sc. department with active participation from various departments of college
# 2011
Took a step ahead and journey aheaded towards inter-college festival for the first time organized by B.Sc. & M.Sc. I.T. & C.S. department with M.Sc. leading the event, was a great success with active participation from 10+ colleges in various events
A major step in Integrity's journey by introducing themselves to 200+ colleges across Mumbai & Thane, organized by B.Sc. & M.Sc. I.T. & C.S. and leaded by B.Sc. I.T. This was Vartak College's first biggest event in the history by capturing a total number of 60+ colleges in various event. Also the event was inaugurated by Rajesh Patkar Sir (opens new window) my guru and a great professor who teaches with passion in latest technologies in I.T. & Dr. Ramesh K Jadhav (opens new window) an economist.
The journey took a turn with introducing a theme which integrates talent as well as aware's people about a topic they should be knowing or taking care of and this time it started with "Go Green". The team went out publicly to perform skit telling why today's generation should "Go Green" and it was marvellous event bring in a great participation from various colleges.
Now the journey continues on its 5th fascinating year with a theme for the legends, "A Tribute to the Legends". The team has put on its rocking hard efforts and are waiting for the day the fun begins. This year they have taken a great step and also have launched out its first Official Trailer - I would say a teaser to the audience. This year its gonna rock more, so guys lets join in the fun and try bringing out the legend within us.
# Promo Video
If you liked the teaser, do share it and give your feedback.